Introduction
Stains & finishes
Parts List

Page 1

Page 2
Assembly

Page 1

Page 2

Page 3

Page 4

Trouble Shooting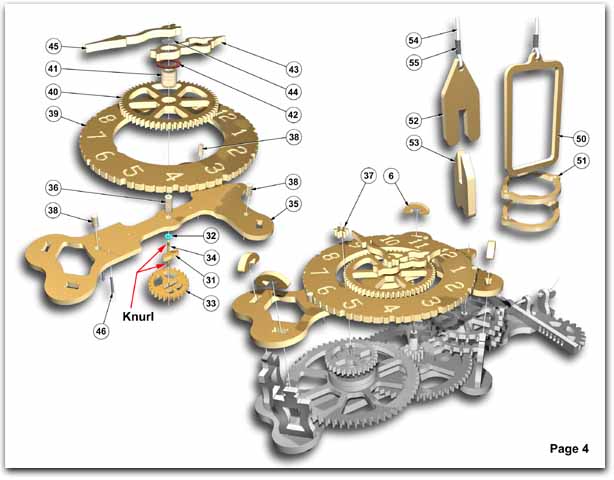 PAGE 4. FRONT PLATE ASSEMBLY
Press bushing #36 and (3) wooden pins #38 into front plate #35.
Press dial ring #39 onto front plate #35. Locate ring on top (2) pins then press bottom of
dial onto bottom pin.
Insert shaft #34 into gear #33.
Press key #31 into gear to lock onto shaft. If lock is not sufficient, turn key over and file
to suit.
Assemble washer #32 on brass shaft #34.
Insert assembly into bushing #36.
Place gear #40 flat on table and press in bushing #41.
Place washer #42 over bushing #41
Press hour hand #43 onto bushing #41 (slip fit).
Place gear #40 onto bushing #36.
Place washer #44 onto shaft #34.
Press minute hand #45 onto shaft #34. Do not press on all the way or gears will not turn.
Press (2) steel pins #46 into the back of the front plate #35.
Load top plate assembly onto the 4 uprights #3 and carefully align shafts and gears #30
and #33.
Press gear #37 onto brass shaft #12. Check if all gears rotate freely.
Lock top plate assembly onto (4) uprights #3 with keys #6. If gears run freely we can now
lower the swing shaft #8 by releasing wedge #47. The escapement pawl #7 should be
12 mm or 1/16" inside the sprocket wheels #18 and #20.
PAGE 4. PULL STRING ASSEMBLY
Thread braided cord #54 through openning in lower clock frame, around pulley #29 and
back through lower frame.
Cord should be retained by the (2) steel pins #46 on back of front plate #35.
Slide (1) heat shrink tube #55 onto each end of cord.
Thread left end of cord through weight frame #50 and right end of cord through counter
weight #52.
Slide heat shrink tube #55 onto each end of cord and carefully hold next to candle flame
or heat gun until it shrinks onto cord. (DO NOT hold above flame).
Place full pop can into weight frame #50 and slide (2) weight rings #51 onto weight
frame #50. (Lower ring should be about halfway up the frame).
Slide counter weight fin #53 onto counter weight #52
Remove wedge #47 and pull swing shaft #8 up high enough so that escapement pawl
#7 is about half way up the teeth of escapement sprockets #18 & 20.
Replace wedge #47 making sure the string is positioned in the middle of the square hole.
A set of metal weights can be ordered separately. The large weight is 600 grams, and
the small weight (counter weight) is approximately 100 grams.